ROLA Acoustic Foam
For use in home theatres for sound proofing, noise control (sound absorption), and reduction of room reverberation time (reduction in room reflections). The tiles are available in two useful sizes (500mm x 500mm) and (1000mm x 400mm). These are totally produced in South Australia to ROLA's design specifications. Each tile is made from multiple pyramid shaped wedges from quality foam.
There are two different size pyramids in the tile range (25mm x 25mm) and (100mm x 100mm). The geometry of the smaller pyramid makes an array of 20 x 20 (400 total) pyramids.
<![if !vml]>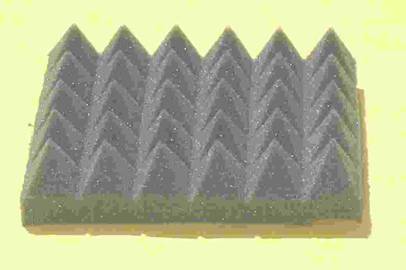 <![endif]>
small 25mm x 25mm pyramid
The geometry of the larger pyramid makes an array of 5 x 5 (25 total) pyramids. The larger pyramid be more suited to large venues as well as home use, the smaller pyramid for home and small studio use.
<![if !vml]>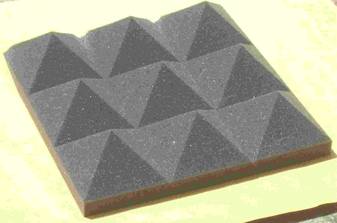 <![endif]>
large 100mm x 100mm pyramid
Pricing each tile inc GST
| | | | |
| --- | --- | --- | --- |
| SIZE | 1-100 | 100-500 | 500 |
| 500 x 500 small | $19.25 | $17.33 | $15.59 |
| 1000 x 400 small | $30.80 | $27.72 | $24.95 |
| 500 x 500 large | $31.50 | $28.35 | $25.52 |
| 1000 x 400 large | $50.40 | $45.38 | $40.82 |