<![if !vml]>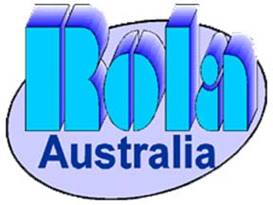 <![endif]>
ROLA Australia
Broadcast Equipment Manufacturers
Microsoft Certified Systems Engineers & Cisco CCNA
All our engineers all have CERT IV in TAA to deliver quality training
One of the first products to be manufactured by the early ROLA company circa 1960
<![if !vml]><![endif]>
Australian Agents for BSI Software USA since 1995
Support and sales for complete installations including network configuration and security, on site training for SIMIAN and all BSI software,
NatSoft broadcast scheduling software Natural-log and Matural-Music
.
Stereo FM Transmitter

†

FMX-3 A$499
<![if !vml]><![endif]>
(10 microwatts output - LIPD ) Ideal for short hop transmissions of up to 50mtrs. in low power stereo. The unit comes pre-built and tested complete with plugpack ready to use. Frequency is† set to† 88.3mhz-FM and may be changed to one of 16 different channels.† The transmitter can be used with leaky feeder systems for greater coverage.† Ideal for talking sign applications where cheap kit transmitters are found insufficient. A great solution alternative to hearing loops and loop amplifiers to assist the hearing impaired community.
Standby transmitter and theatre public broadcasting exciter FMX-5 A$1499
<![if !vml]>

<![endif]>
This is our latest FM exciter for use in theatres and larger open area coverage. The basic exciter has an output power of 10 microwatts (LIPD) as standard with optional by way of configuration up to 5 watts for leaky coax installations. Can be used as a community station† exciter or standby transmitter. The exciter is full broadcast spec stereo, PLL and fully frequency agile from 87.6mhz to 108mhz. The PLL board has an up and down button and internal digital LED frequency counter for easy display and setting of frequency. The transmitter features canon balanced line in at 4dbm and dual input level backlit VU meters. Ideal for open air movies and local football ground live broadcasts.
Studio monitor amplifiers
See the section on our Radford inspired STA25, all tube studio monitor amplifiers for broadcasting and recording use. These are modelled on the worlds best monitor amplifier from the UK the Radford STA-25 from the 60ís.
Broadcast Tape recorder maintenance and Restoration
Rola Australia are one of a few remaining companies able to fully restore broadcast reel to reel tape machines. We have a fully equipped mechanical workshop with lathes, mills, 3D printers, laser cutters, NC routers and more. We have the ability to manufacture one off spare parts in the restoration process, including head blocks, pinch rollers, bearings, tape guides specialised felt parts and more. We restore EMI, AMPEX, STUDER, SONY, OTARI, ROLA, BYER, PLESSEY, MCI, TASCAM, TANDBERG, NAGRA and other studio grade machines. Restorations including re-capping, full disassembly and removing and replacing old lubricants, re-alignment start at $1500 per machine. Lead times can be variable. We do not restore domestic tape recorders. To see some of our work you can search youtube for AMPEX ATR800. We have restored over 400 tape machines in the last 30 years.
<![if !vml]><![endif]>
Broadcast Equipment Manufacturers
We have the capability to re-manufacture vintage equipment of the past such as limiter compressors, Western Electric amplifiers such as the WE41, WE42, WE43, vintage mic amplifiers and more.
Contact Information

GTD@BETTANET.NET.AU
†
Office phone
61-08-82703175
<![if !supportLineBreakNewLine]>
<![endif]>
Copyright 1996-2008 ROLA AUSTRALIA