<![if !vml]>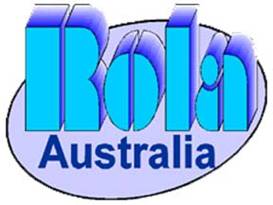 <![endif]>
ROLA
Australia
Broadcast Equipment Manufacturers
Microsoft Certified Systems Engineers
One of the first products to be manufactured by the early ROLA

company

circa 1960
<![if !vml]><![endif]>
Australian Agents for BSI Software USA since 1995
<![if !vml]>

<![endif]>
.
Audio delay software

A$

399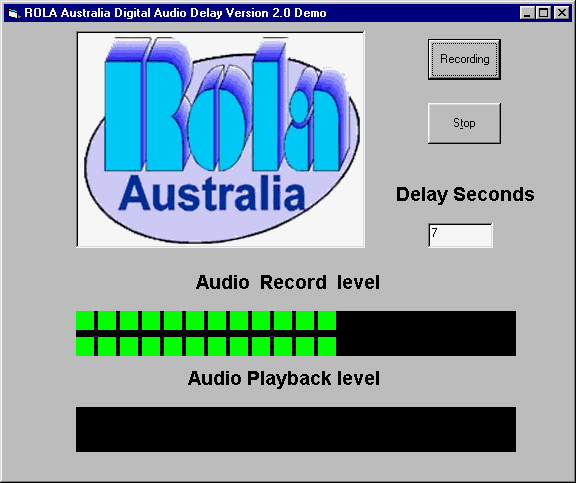 A windows based application that uses a standard PC with full duplex sound card and driver, to "time delay" audio for P.A., talkback radio or time zone delays. CD quality Delay times, from 7 seconds to weeks can be made (depending on PC specification and hard disk size). Software is intuitive and simple to install and use.
Stereo FM Transmitter

†

FMX-3 A$499
<![if !vml]><![endif]>
(10 microwatts output - LIPD ) Ideal for short hop transmissions of up to 50mtrs. in low power stereo. The unit comes pre-built and tested complete with plugpack ready to use. Frequency is† set to† 88.3mhz-FM and may be changed to one of 16 different channels. †The transmitter can be used with leaky feeder systems for greater coverage.† Ideal for talking sign applications where cheap kit transmitters are found insufficient. A great solution alternative to hearing loops and loop amplifiers to assist the hearing impaired community.
Theatre and public broadcasting exciter FMX-5

A$

1499
<![if !vml]>

<![endif]>
This is our latest FM exciter for use in theatres and larger open area coverage. The basic exciter has an output power of 10 microwatts (LIPD) as standard with optional by way of configuration up to 20 milliwatts for leaky coax installations. Also available is an adjustable 1 to 25 watt PA module for very large installatiuons or for use as a community station† exciter. The exciter is full broadcast spec stereo, PLL and fully frequency agile from 87.6mhz to 108mhz. The PLL board has an up and down button and internal digital LED frequency counter for easy display and setting of frequency. The transmitter features canon balanced line in at 4dbm and dual input level backlit VU meters.
DSP audio processor DSP-1 $1499
Our latest addition for use with any of our transmitters is our DSP-1 audio processor to keep that on air sound well controlled. Featuring AGC,

multiband

limiter compressor and

spacial

dynamics processor.

†

Canon balanced line in and out 1RU rack in the same form as the FMX-5, self contained processor board with 16 bit DSP converters on board. The DSP is

†

fully remote desktop configurable with inbuilt networking. There is only one moving part in the whole processor a small fan for the power supply, all firmware and OS is stored in NVR and can be web upgraded over a network connection. ROLA can

†

diagnose, update and configure the DSP-1 remotely for customers from anywhere in the world.

†

This is an ideal processor for an installation of BSI simian in a lock the door and leave environment or for use in hearing impaired installations for automatic control and optimisation of audio levels.

†

†
Studio monitor amplifiers
See the section on our Radford inspired STA25, all tube studio monitor amplifiers for broadcasting and recording use. These are modelled on the worlds best monitor amplifier from the UK the Radford STA-25 from the 60ís.
Contact Information

GTD@BETTANET.NET.AU
†
Office phone
61-08-82703175
<![if !supportLineBreakNewLine]>
<![endif]>
Copyright 1996-2008 ROLA AUSTRALIA