Radford Inspired STA-25 tube Studio monitor amplifier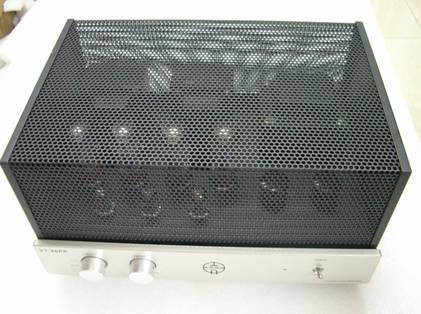 Inspired from the work of Arthur Radford, this classic design follows similar styling to the original Radfordís with a heavy 1.5mm all steel chassis and perforated cover. The front panel is machined from an ingot of panel grade aluminium 10mm thick, all components are of the highest credentials, Japanese Alps volume control, German resistors from Rhoderstein and Byschlag, capacitors from Philips Holland and ERA. Each transformer carefully hand wound using many interleaved layers of OFC, The standard valves are new stock Shuguang premium fat bottle EL34ís, with options for tube upgrades from the ROLA tube bank of 20,000 NOS, available to all customers to audition, from Mullard, Telefunken, RCA, GEC Osram, Philips and AWA. Connectors are gold SATO from Japan, with options for DH- labs, valve sockets are all gold plated ceramic. All audio wiring is with military grade solid silver inner conductor Teflon dielectric shielded cable and Tefzel aircraft grade Teflon coated silver wire, gold plated 2oz copper 2mm thick heavy duty double sided PCB.
All amplifiers are fully assembled in Adelaide by hand, not mass produced, and as such there is a large degree of custom optimisation available for each amplifier. one engineer fully builds each amplifier and winds the output transformers used. Each transformer is hand wound one layer at a time, varnished and insulated than the next layer wound. Each output transformer takes around 1 Ĺ days to make. The core material is high permiability German GOSS core scrapless lamination EI style hydra cut to ensure no magnetic property damage. All transformers come with bell end caps to reduce crosstalk.
Sonically the STA-25 represents the best the 50ís and 60ís offered, the ROLA STA-25 includes a number of improvements such as replacing the original noisy and troublesome 6U8 pentode/triodes with the low noise and sonically well respected ECC82, an ECC83 is used as the first voltage amplifier, this also provides lower microphonics. The transformers are generous and individually hand wound in a similar manner to the Radford originals, with multiple layers interconnected, this results in an excellent low bass response flat to 10hz and open to 35khz. Channel separation and low noise floor provide a great open soundstage, the low distortion design provides minimal coloration to all styles of reproduced music, and the built in passive two channel preamp offers all of the advantages that passives offer.
The optional ROLA phono preamp is also Radford inspired with a lab grade selected Philips BC549D and a 7586 nuvistor tube in each channel, an additional emitter follower output using a BC547 is also available to drive 600 ohm lines or a recording output. The entire tube preamp is enclosed in a MU-Metal box for superior magnetic screening. Only the best bipolars are selected, ROLA purchase 10,000 at a time BC547 and BC549Dís and only select the highest gain, lowest noise devices for use in these phono preamps. Our yield is only 100 in every 10,000 parts or 1% (1 in 100) that sounds OK, but it takes a long time to test 10,000 bipolars. The Phono preamp is also available as an OEM module in two variants for home constructors, audiophiles and OEM amplifier builders.
Specifications and performance identical to original Radford STA-25
noise better than -93dbm broadband unweighted, -110dbm A weighting.
Rola STA-25 price list
STA-25 $4999
Includes delivery Australia wide, and MDF shipping crate.
Available ex stock blue LED, silver front panel, Shuguang premium fat bottle valves.
Black Diamond STA-25 $5999
DH-Labs RCA sockets or Canon XLR input and output sockets, Military long life and ruggedised , CV4060-KT66 Tubes, and customer choice from ROLA valve bank stock of ECC82 and ECC83 preamp valves, choice of red, green, amber, white, or blue LED . Black front panel, silver knobs. Availability 7 days from time of order, includes delivery Australia wide, and MDF shipping crate.
Custom additions
| | |
| --- | --- |
| Item | cost |
| Extra inputs / per each (DH labs additional $50 each input) | $100 |
| Mono Line output (for subs etc) | $50 |
| Valve Phono input (Radford inspired) | $999 |
| MC transformers for phono preamp | $599 |
| Brass Machined amplifier feet | $449 |
OEM Phono/mic preamp module
Complete fully operational full specification preamp with international 24V DC plugpack power supply, RCA RIAA curve, ready to use.
Other curves available (choice of 16 including a flat response curve for mic preamp use) or a custom response curve of your choice.
Other options include inbuilt transformers for MC or phantom fed microphones. As a mic preamp these are sonically on par with the famous V72 but feature dual channels in one module. The mic version comes with canon XLR-3S input sockets and RCA outputs.
With Steel enclosure† domestic RCA sockets††††††††††††††††††††† ††††††††††††††††††††††† $699
With medium permeability Mu-Metal enclosure domestic RCA sockets† $899
With high permeability Mu-Metal enclosure with DH labs RCA sockets $1299
Delivery and build times
Each amplifier is hand made from start to finish, no mass production. The same Engineer that makes the amplifier completes it fully through to testing and final listening tests. Each amplifier is usually run in for 48 hours prior to shipping.
All amplifiers carry a 5 year back to base warranty. Valves carry a 90 day warranty, Dealer discounts available.